3U VPX Power Supply
X-ES bid on four custom modules that were part of a large military ground vehicle upgrade. X-ES won three out of the four contracts. The contract X-ES did not win was a custom 3U VPX VITA 62.0 power supply. The customer approached X-ES again after nine months of working with another company and asked X-ES to start the 3U VPX VITA 62.0 power supply project due to issues with the company that had won the original contract. X-ES started the custom 3U VPX power supply project nine months after the contract was awarded and still met the original deadline. The customer chose X-ES based on the ability to accommodate challenges in a very aggressive time frame. In addition to developing a complex power supply, X-ES designed and built test equipment to fully automate the functional test procedure for the power supply. The automated test equipment substantially reduced test time.
The customer required full compliance to VITA 62.0, MIL-STD-1275, and MIL-STD-461 and required the power supply include nuclear event detection circuitry, output over voltage clamping circuitry, IPMI, and BIT support. X-ES had to use a daughterboard PCB to accommodate the large number of requirements while maintaining the 0.8 in. pitch 3U form factor.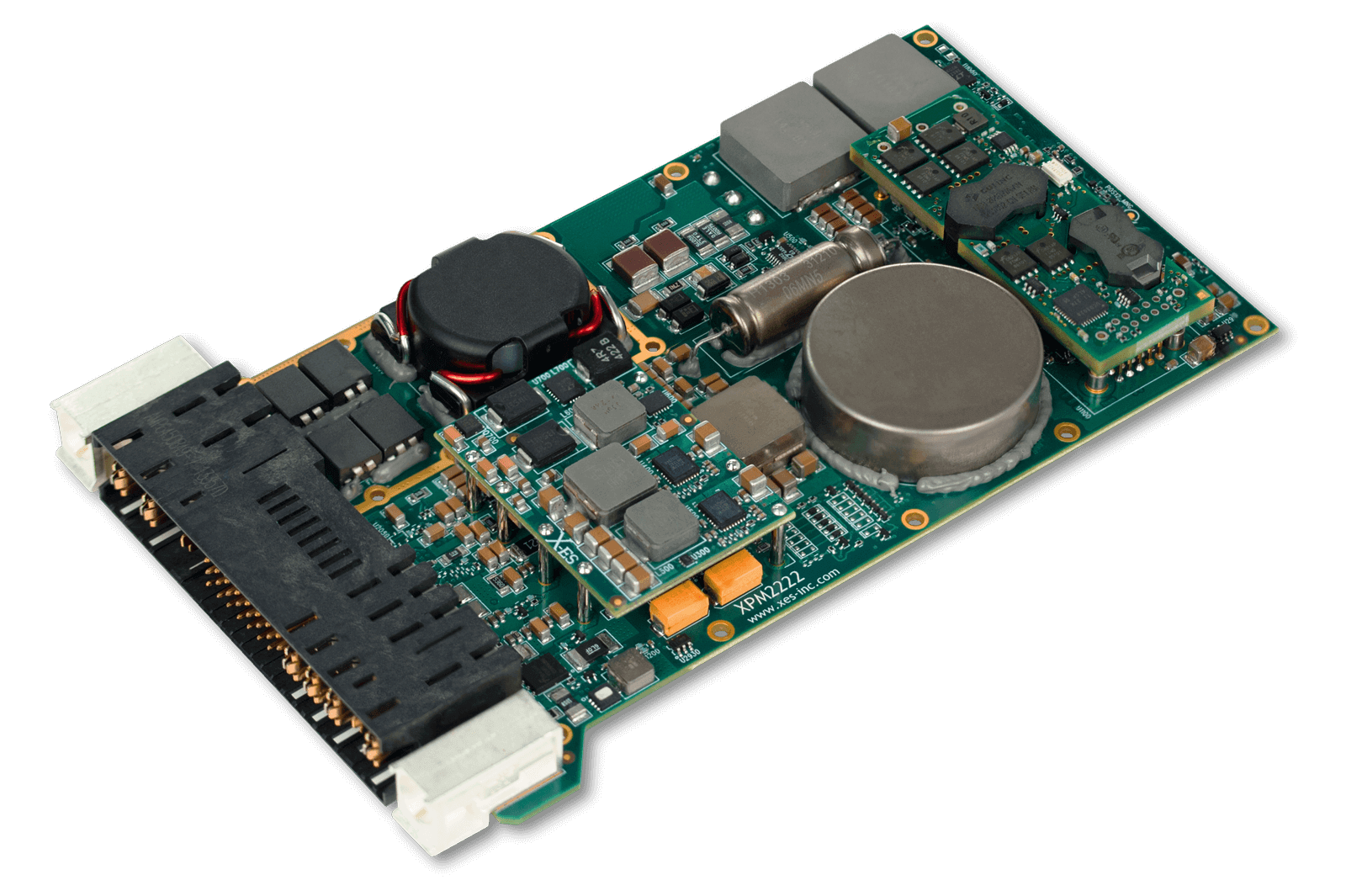 XCalibur5090
6U LRM FPGA
For custom projects, X-ES prides itself on working in partnership with customers towards success and the XCalibur5090 is a perfect example. Drawing on the strength of our existing relationship and familiarity with our products, the customer and X-ES were able to work together closely to turn a loose set of desirables into a product specification to fit their needs. The nature of the design required X-ES to work closely with the customer engineering team in designing and validating the Analog-to-Digital (ADC) and Digital-to-Analog (DAC) subsystems as well as the firmware and FPGA IP. The two integrated teams worked together closely and successfully completed all testing and design validation in-house.
By working collaboratively and in an integrated team, X-ES delivered a successful custom product to the customer on-time and on-budget.
View XCalibur5090 Product Page
X-ES Firmware Development Kit (FDK)
Consisting of a proven example design, HDL, and software functions, the FDK accelerates developing FPGA algorithms and logic for X-ES customer-programmable FPGA products.
Read More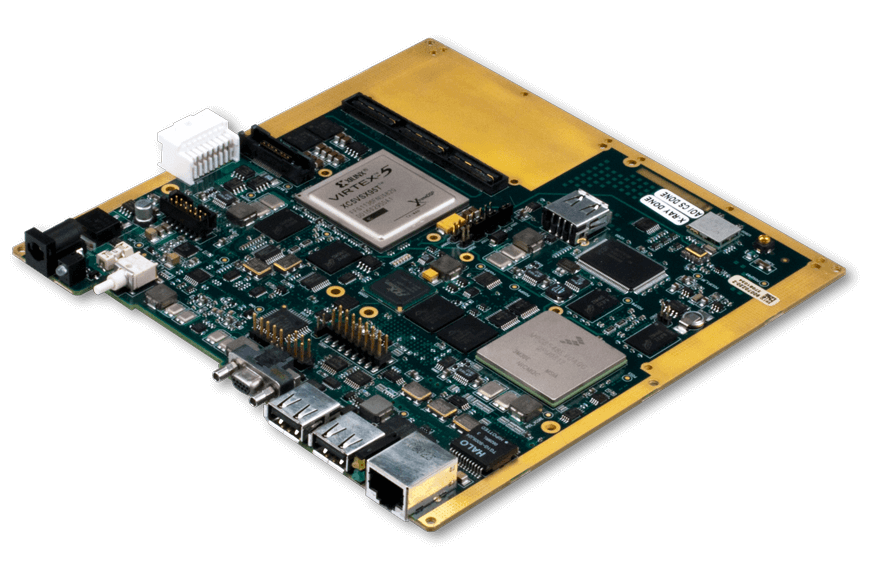 Custom Form Factor
The customer came to X-ES after seeing the XPedite5200. After the successful evaluation and customer support experience, the customer asked X-ES to develop a custom MPC8548E design based on the XPedite5200. The customer chose X-ES based on X-ES' proven design experience with the MPC8548E and Xilinx FPGAs. During an on-site meeting X-ES sketched out a block diagram of the system and kicked off the project. The concept was to:
Expand form factor from XMC/PMC to a custom form factor
Reduce overall power consumption for the system by removing unneeded parts
Add support for hosting 2 XMC/PMC modules and 1 custom daughtercard
Add Xilinx Virtex-5 FPGA connected to CPU; the FPGA subsystem includes PCI Express, DDR2, and custom logic interfaces
Add ability to program FPGA from CPU during operation
Add USB host support and three USB ports
Redesign power supplies to to allow unit to be powered from an external "laptop" style power supply brick
Add Li-Ion battery charger / manager and Li-Ion battery to power unit when power supply is disconnected
Thermal design and testing to support operation at 55°C in a natural convection environment
Add support for real-time Linux and software support for additional functionality
An X-ES design engineer worked closely with the customer's team to expand the block diagram specification into a full design spec in the next week and worked closely with the team through the design process, meeting weekly or more to discuss project status and scheduling. Due to its custom nature, several test fixtures were created to test the functionality of the custom daughtercard module interfaces and test ports as well as to provide power to the unit.
In addition, X-ES worked closely with the customer's mechanical design team to help develop, model, simulate, and verify the chassis that the product would be housed in and which acts as the heatsink for the unit. After prototype verification by X-ES and the customer, production boards were produced and they went into successful production use with several customers.