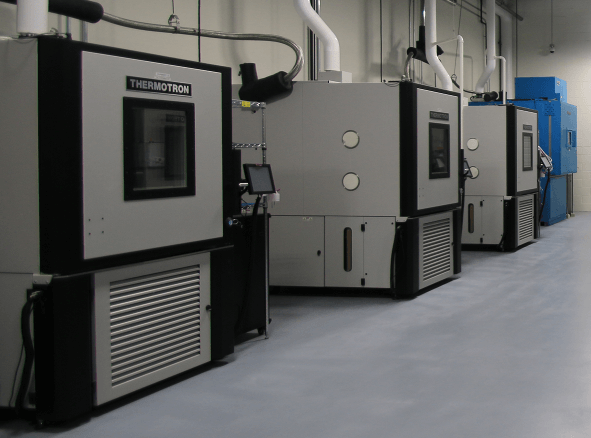 High levels of humidity can cause many issues in electronic systems and components, from mechanical failures to material degradation. X-ES engineers perform humidity tests not only to verify that products function correctly at high humidity, but also to help plan component selections and coatings.
X-ES performs humidity tests in an on-site environmental testing lab with the following models of thermal chambers. All chambers are located in an ESD-protected area:
Thermotron SE-1000
Thermotron FA-35
With these chambers, engineers can independently control the temperature of the thermal interface surface, using liquid nitrogen (LN2)–cooled fixtures for conduction-cooled systems, and can simulate relative humidity levels of 20%-98% non-condensing. Humidity tests can be combined with temperature and/or altitude tests.
Humidity Tests
X-ES engineers have experience performing the following tests on-site for system- and board-level qualification efforts:
MIL-STD-810 Humidity, 95% Non-Condensing
DO-160 95%