Enhance System Performance with X-ES' Secure, Low-Power 6U VPX SBCs with Integrated SecureCOTS™ Technology
Optimized for Environmentally Challenging Applications
Secure 6U VPX
Single Board Computers
X-ES introduces the XCalibur4646 and XCalibur4545, a pair of Intel® processor-based 6U OpenVPX™ single board computers (SBCs) each featuring X-ES' SecureCOTS™ technology. Both products include a myriad of security features supported by the Microsemi SmartFusion®2 System-on-Chip (SoC) FPGA and VPX-REDI metalwork for complete physical protection.

These secure, low-power boards are well suited to the rigorous demands of modern military applications, and are just two of many X-ES embedded single board computers that excel in extreme environments.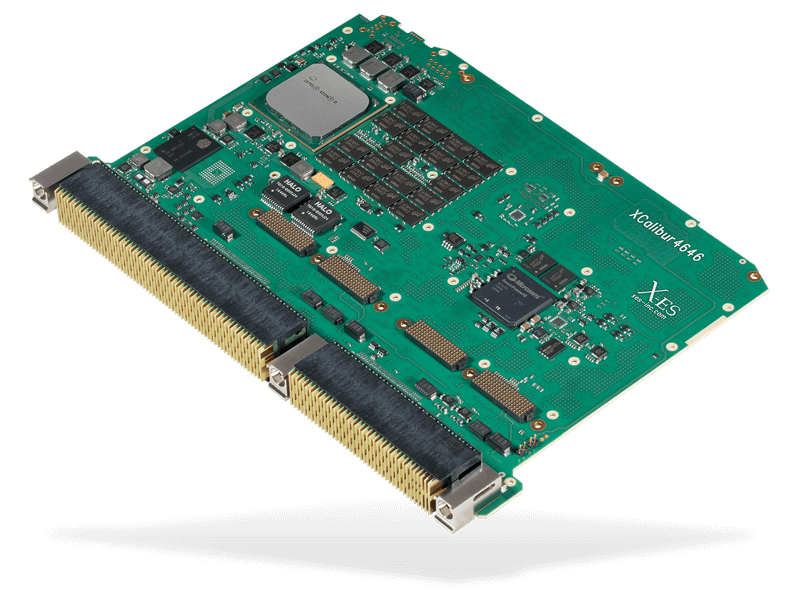 The XCalibur4646 architecture is based on the Intel® Xeon® D-1500 family of processors. With up to 16 Xeon®-class cores in a single power-efficient System-on-Chip (SoC) package and extended temperature support (up to 12 cores), the Intel® Xeon® D family of processors are capable of supporting high-bandwidth processing and I/O intensive applications.
The XCalibur4646 is optimized for network performance and power efficiency with two 10GBASE-KR Ethernet interfaces direct from the CPU and two 10/100/1000BASE-T Ethernet interfaces to the VPX backplane. Its overall stripped-down design minimizes power consumption and maximizes the thermal headroom for mezzanine cards.
A direct Gen-3 capable x8 PCIe connection from the Xeon® D processor to each XMC site, and mezzanine I/O mapped directly to the VPX backplane, makes the XCalibur4646 ideal for hosting high-powered XMC graphics cards. It also accommodates up to 32 GB of DDR4-2133 ECC SDRAM in two channels and up to 64 GB of SLC SATA NAND flash in addition to other I/O ports, including USB, SATA, and four configurable RS-232/422/485 serial ports through the backplane connectors.
The XCalibur4545 architecture is based on the 5th generation Intel® Core™ i7 (formerly Broadwell-H) processor. It maximizes network performance with up to four 40 Gigabit or eight 10 Gigabit Ethernet ports, and sixteen lanes of Gen3-capable PCI Express to the VPX backplane. The XCalibur4545 can also leverage the integrated Intel® Iris™ Pro graphics for display or general-purpose GPU applications.
Additionally, it accommodates up to 16 GB of DDR3L-1600 ECC SDRAM in two channels and up to 64 GB of SLC SATA NAND flash along with a DisplayPort or HDMI interface, USB, SATA, and four configurable RS-232/422/485 serial ports through the backplane connectors.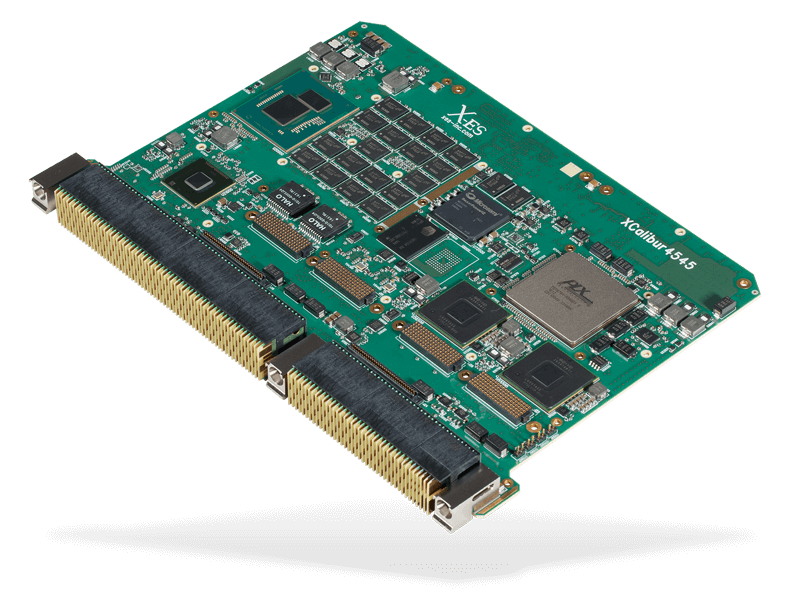 Protect Critical Information
SecureCOTS™ Technology
At the heart of the XCalibur4646 and the XCalibur4545 is the customizable Microsemi SmartFusion®2 SoC with 1 GB of ECC DDR3 memory to implement SecureCOTS™ features.

The trusted and proven SmartFusion®2 can host many types of custom functions such as data encryption, and supports the ability to control, intercept, and monitor the CPU subsystem, and interface to the system through I/O directly connected to the VPX backplane. Additionally, the SmartFusion®2 SoC includes embedded memory, random number generator, crypto-cores, PUF, and supports complete zeroization.

Custom logic may also implement system penalties such as clearing keys or completely erase itself if a compromise is detected. Two-Level Maintenance (2LM) metalwork can also be added to provide an additional layer of security to the physical hardware.
Extend System Functionality with X-ES XMC Mezzanine Modules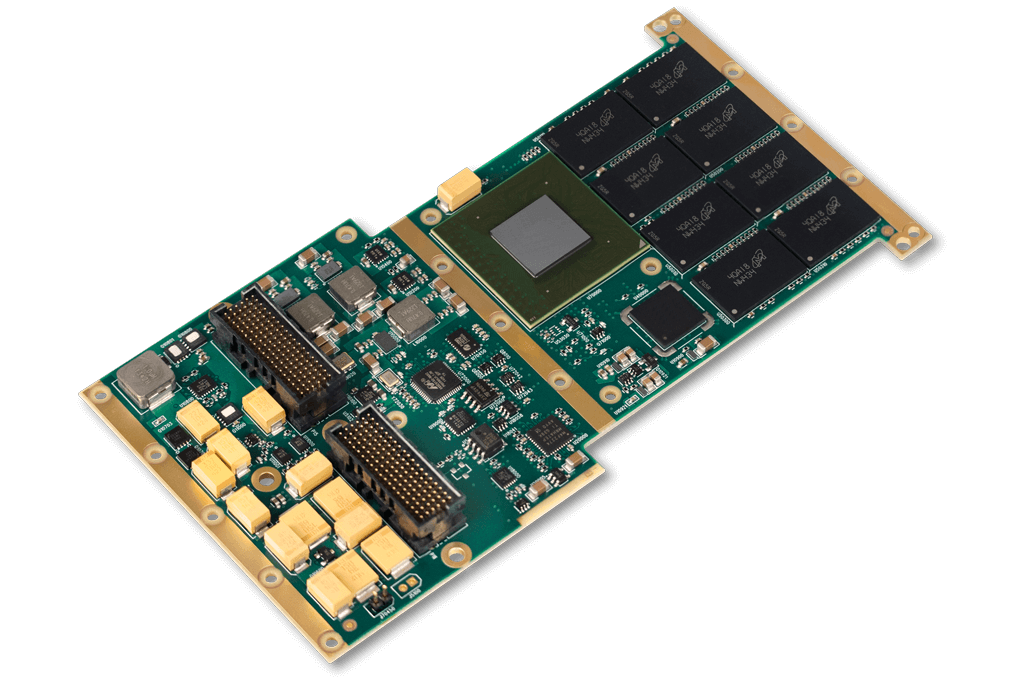 The XPort6105 is a secure self-encrypting drive (SED) / Solid-State Drive (SSD) XMC module that provides up to 512 GB of storage.
The XPort6105's security features include AES-256 XTS encryption, where the encryption key can be purged in less than 30 ms, leaving no remnants of the key behind.
View XPort6105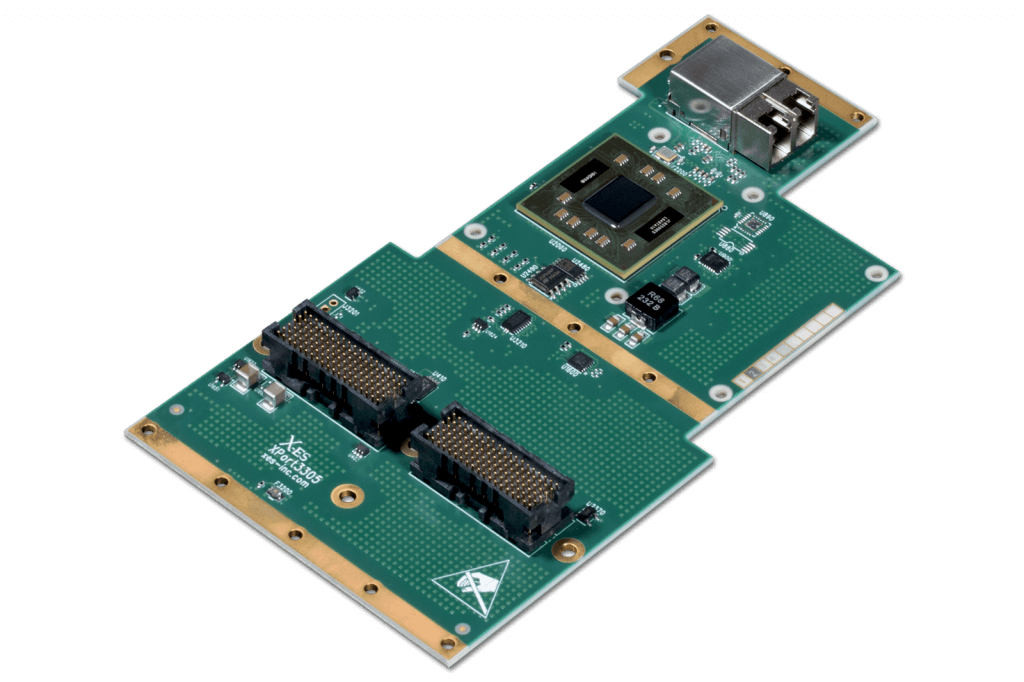 The XPort3305 is a conduction- or air-cooled dual 10 Gigabit Ethernet XMC with front and rear panel I/O support.
Front panel I/O for the 10 Gigabit Ethernet interfaces is provided with an integrated rugged 10GBASE-SR optical transceiver. It provides a superior alternative to traditional connectors and is well-suited to use in rugged, extreme temperature environments.
View XPort3305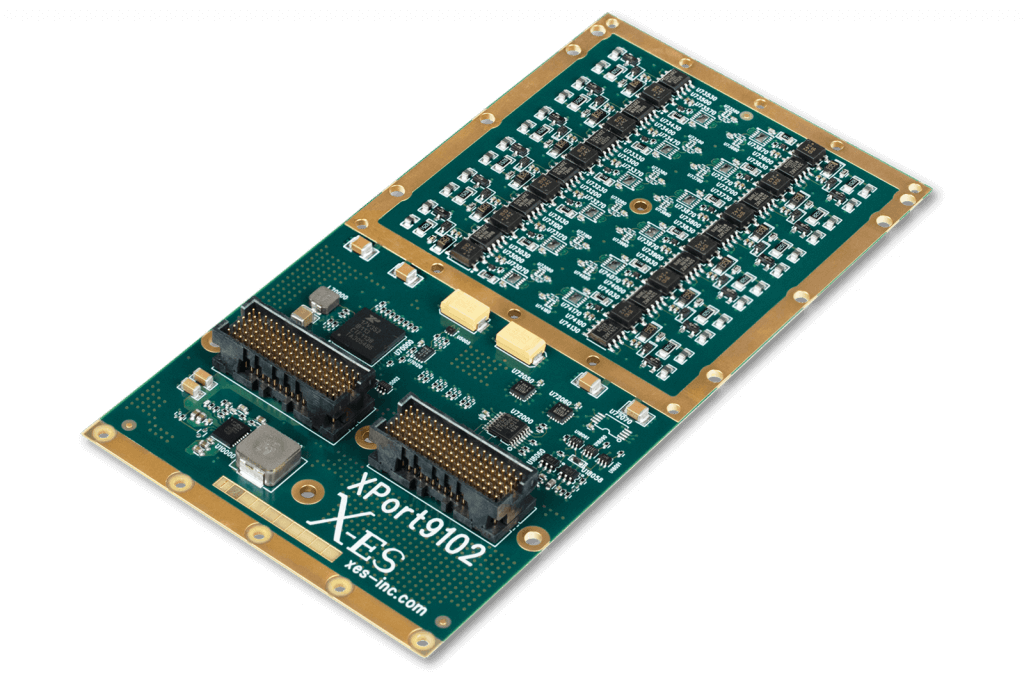 The XPort9102 is a rugged, discrete I/O, XMC module which provides up to 12 isolated, direction-configurable, avionics-level-tolerant, TTL (5 V signal level) discretes.
A 5 mA biasing resistor is included for each TTL discrete, and the discretes tolerate being pulled up externally to 28 V. These discrete inputs are ground / open sensing.
View XPort9102