X-ES Announces Rugged Intel® Xeon® D COM Express® (Type 7) Mezzanine Module with Dual 10 Gigabit Ethernet & Onboard Storage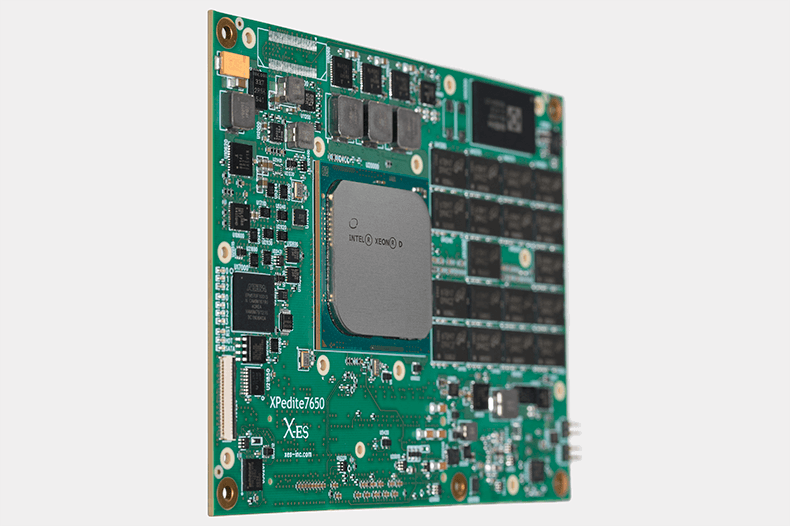 Extreme Engineering Solutions (X-ES) is pleased to introduce our first enhanced COM Express® Basic (Type 7) mezzanine module, the XPedite7650, based on the Intel® Xeon® D-1500 family of processors (formerly Broadwell-DE) and featuring dual 10 Gigabit Ethernet ports.
New Standards-Compliant COM Express® Form Factor with 10 Gigabit Ethernet
The XPedite7650 is an Intel® Xeon® D processor-based mezzanine module designed to the COM Express® Basic form factor (95 mm x 125 mm), and the first X-ES product to be designed in accordance with the COM Express® (Type 7) standard.
The new Type 7 standard deviates from the established Type 6 pinout, which focuses on audio and visual capabilities, by eliminating graphics support to allow for the inclusion of 10 Gigabit Ethernet, an NC-SI interface, and an additional eight (total of 32) PCI Express lanes.
Feature Rich Mezzanine Module for Modern, Low-Power Applications
In short, with the introduction of the all-new Type 7 standard, the COM Express® Basic form factor has been extended to include support for low-power applications that require data-intensive processing capabilities and network throughput, making the Type 7 pinout ideal for small, server-grade applications.
By integrating a powerful Intel® Xeon® D processor onboard an ultra-compact, standards-compliant COM Express® (Type 7) form factor, X-ES is able to offer customers embedded computing processor boards with a quintessential blend of size, weight, and power (SWaP) to meet the most demanding industry standards.
XPedite7650 comes standard with an Intel® Xeon® D processor offering up to 16 cores and native, extended temperature support (up to 12 core count SKUs) to provide customers with a powerful, energy-efficient system-on-chip (SoC) package.
All of this server-grade processing performance is coupled with two channels of 10GBASE-KR Ethernet for high-speed networking and up to 32 GB of DDR4-2133 ECC SDRAM for memory-intensive applications.
Optimized for Rugged Applications
Powerful, Compact Embedded Computing Solution
The XPedite7650 supports a wide variety of I/O ports and interfaces including 24 lanes of PCIe Gen3, up to eight lanes of PCIe Gen2, one Gigabit Ethernet port (optional), four USB 3.0 ports, two SATA ports, two LVTTL serial ports, LPC, SMBus, and I²C, giving system integrators a single, interchangeable module with a clear upgrade path for the future. Up to 32 GB of self-contained, bootable, onboard NAND storage provides easy filesystem access without the need for external connections.

With a small footprint and ruggedized design featuring Class III PCB fabrication, soldered memory, tin whisker mitigation, and tested and proven extended solder joint reliability, the XPedite7650 is ideal for deployment within an X-ES rugged embedded system.
Achieve Rapid Boot Times with coreboot and a Suite of Supported Embedded Software
Utilize the lightweight coreboot bootloader onboard the XPedite7650 for secure, sub-2.5 second boot times. Powered by Intel®'s Firmware Support Package (FSP), coreboot is designed for applications that require rapid system initialization. The small, simple, and open code base of coreboot and its payloads lends itself to easier security and reliability auditing.
XPedite7650 is available with Wind River VxWorks or X-ES Enterprise Linux (XEL) Board Support Packages (BSPs).