Advanced Search
Search by Name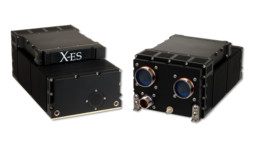 XPand6208
4th Gen Intel® Core™ i7-Based Rugged Small Form Factor (SFF) COTS System with Cisco IOS® Router and 10 Gigabit Ethernet Switch
The XPand6208 is a true Commercial-Off-The-Shelf (COTS) rugged system based on the 4th generation Intel® Core™ i7 (formerly Haswell) processor and a 10 Gigabit Ethernet switch. With a compact design and weighing less than nine pounds, the XPand6208 maximizes processing and networking performance while minimizing SWaP. The XPand6208 provides a SWaP-optimized alternative to traditionally larger slot-based systems; it is an actual Small Form Factor (SFF) system based on COTS 3U VPX modules.
The XPand6208's first slot supports the XPedite7570 3U VPX 4th generation Intel® Core™ i7-based SBC mated with the XPort3301 dual 10 Gigabit Ethernet XMC. The XPand6208's second slot supports the XChange3018 3U VPX 10 Gigabit Ethernet switch. The XChange3018 can be configured as a fully managed Layer 2 switch or Layer 3 router. The XChange3018 delivers full wire-speed across all of its ports and supports jumbo packets up to 12 kB. It supports IPv6, Energy Efficient Ethernet (EEE), and a comprehensive set of IETF RFCs and IEEE protocols. The XChange3018 optionally supports compliance with the VICTORY specification as an Infrastructure Switch and Router. The XPedite5205 Cisco IOS® Router XMC can be installed on the XChange3018 to provide highly secure data, voice, and video communications to stationary and mobile network nodes.
The system also supports the XPort6193 removable high-density SATA SSD memory module for highly secure and encrypted solid-state storage. The XPand6208 supports the rear I/O from the installed VPX modules with two 130-pin circular connectors. This fully ruggedized system is designed to meet the rigorous standards of MIL-STD-810 and DO-160, while integrating the latest power-saving and performance-enhancing technology. The heat from the internal conduction-cooled modules is conducted to sidewall heat exchangers, where it is dissipated to the ambient environment by convection cooling or to an attached cold plate by conduction cooling. The system includes an integrated MIL-STD-704 28 VDC power supply and MIL-STD-461 EMI filtering.
4th Gen Intel® Core™ i7-based processor (formerly known as Haswell)
5th Gen Intel® Core™ i7 (Broadwell-H) support available beginning Q4 2015
XPedite5205 Cisco IOS® Gigabit Ethernet Embedded Services Router (optional)
10 Gigabit Ethernet switch
Layer 2 switching and Layer 3 routing management with extensive IEEE protocol and IETF RFC support (optional)
VICTORY Infrastructure Switch and Router support (optional)
Small Form Factor (SFF) sub-½ ATR system
Conduction- or convection- cooled chassis
Physical dimensions of 8.90 in. (L) x 4.88 in. (W) x 3.61 in. (H)
Includes the XPedite7570 4th generation Intel® Core™ i7- based 3U VPX module
Includes the XPort3301 dual 10 Gigabit Ethernet XMC module
Includes the XChange3018 Gigabit and 10 Gigabit Ethernet switch
Removable Memory Bay (RMB) for XPort6193 ruggedized 2.5 in. SATA SSD memory module (optional)
Integrated 28 VDC power supply
MIL-STD-461 E/F EMI filtering
Environmentally sealed
Circular connector support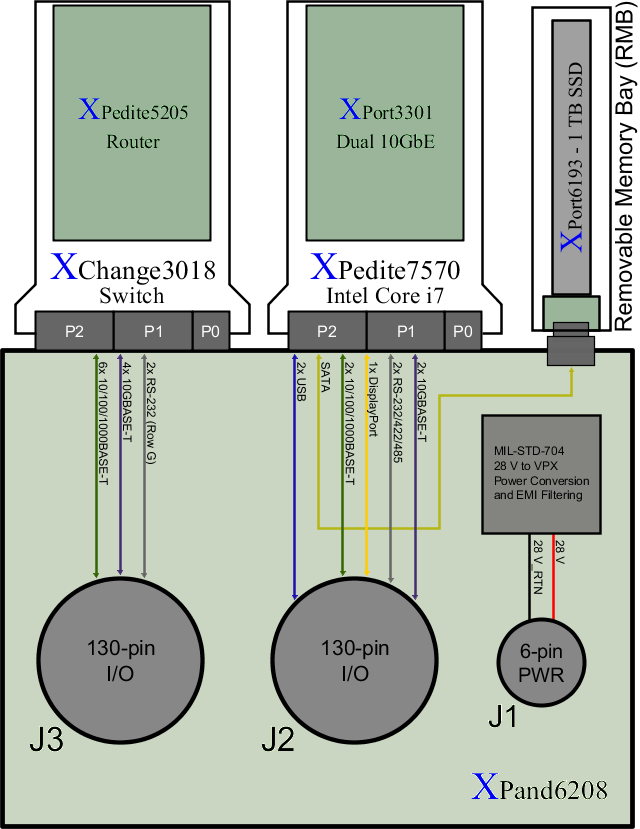 Click on the image above to view a larger version.
Physical Characteristics
8.90 in. (L) x 4.88 in. (W) x 3.61 in. (H)
Weighs approx. 8.9 lbs., with typical payload cards/RMB (5.8 lbs., without payload cards/RMB)
First Slot (XPedite7570 and XPort3301) Front Panel I/O via J2
XPedite7570 4th generation Intel® Core™ i7 processor-based 3U VPX SBC
XPort3301 dual 10 Gigabit Ethernet XMC
Two 10GBASE-T 10 Gigabit Ethernet ports
Two 10/100/1000BASE-T Gigabit Ethernet ports
Two RS-232/422/485 ports
Two USB ports
One external DisplayPort interface (optional)
Second Slot (XChange3018 and XPedite5205) I/O via J3
Four 10GBASE-T 10 Gigabit Ethernet ports
Six 10/100/1000BASE-T Gigabit Ethernet ports
XChange3018 10 Gigabit Ethernet 3U VPX switch
IPv4 and IPv6 support
Support for jumbo frames up to 12 kB
Advanced cable open/short detection
Energy Efficient Ethernet™ support
Non-blocking, full wire-speed
IEEE 1588v2 and SyncE support (optional)
Ethernet Management Features (Optional)
Layer 2 switching and Layer 3 routing
Extensive IEEE protocol and IETF RFC support
Configuration through CLI or SNMP
196 MB packet buffer
VICTORY Infrastructure Switch and Router support
XPedite5205 Cisco IOS® Gigabit Ethernet Embedded Services Router XMC
Power Supply
Integrated power supply
MIL-STD-704 28 VDC input voltage support
MIL-STD-461 EMI filtering
Additional power supply options available
Thermal
The system is designed and tested to operate in ambient temperatures down to -40°C and extreme high temperatures. Maximum operating temperature is dependent on configuration and usage. Contact X-ES for further information
Removable Memory
XPort6193 ruggedized 2.5 in. SSD module
Up to 1 TB of SLC NAND flash
High reliability rugged connector
AES 256-bit encryption
ATA Secure Erase support
Declassification support