The XPort9200 is a conduction- or air-cooled 12-channel CAN bus PMC or XMC module. Each high-speed CAN bus 2.0 A/B channel is galvanically isolated and supports up to 1 Mbps.
The XPort9200 supports a x1 PCIe XMC or 32-bit PCI PMC interface. All 12 CAN bus channels can be supported through the PMC P14, XMC P16, or front panel connector. Optional oncard termination also is available for each channel.
The XPort9200 utilizes an FPGA implementation of the NXP SJA1000 CAN bus controller and supports Linux SocketCAN. Wind River VxWorks and Windows drivers also are available.
12 galvanically isolated CAN bus channels
Compliant with CAN specifications 2.0A (11-Bit-ID) and 2.0B (29-Bit-ID)
High-speed ISO 11898-2-compliant CAN bus channels
Up to 1 Mbps per CAN bus channel
Oncard termination (optional)
Conduction- or air-cooled
Front panel, PMC P14, or XMC P16 I/O
XMC PCIe or PMC PCI interface
Conformal coating available
NXP SJA1000-compatible CAN Controller (FPGA implementation)
Linux SocketCAN support
Wind River VxWorks and Windows Support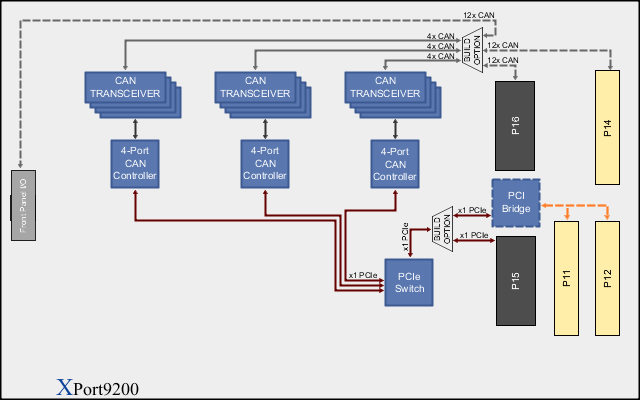 Click on the image above to view a larger version.
P15 XMC Interface
VITA 42.3 x1 PCI Express Port
P11-P12 PMC Interface
Rear I/O PMC/XMC Interface
12 CAN bus channels via PMC P14 or XMC P16
Software Support
Wind River VxWorks BSP
Linux SocketCAN BSP
Microsoft Windows drivers
Physical Characteristics
PMC/XMC conduction- or air-cooled form factor
Conduction cooling per VITA 20
Dimensions: 143.75 mm x 74 mm
CAN Bus Interface
Galvanically isolated
ISO 11898-2-compliant
Up to 1 Mbps per channel
Compliant with CAN specifications 2.0A (11-Bit-ID) and 2.0B (29-Bit-ID)
Configuration Options
XMC or PMC
Front panel, P16 or P14 I/O
Front panel I/O via optional breakout card accessory
Environmental Requirements
Supported ruggedization levels (see the X-ES Ruggedization Chart): 1, 3, 5
Conformal coating available as an ordering option
Power Requirements
Power will vary based on configuration and usage. Please consult factory.